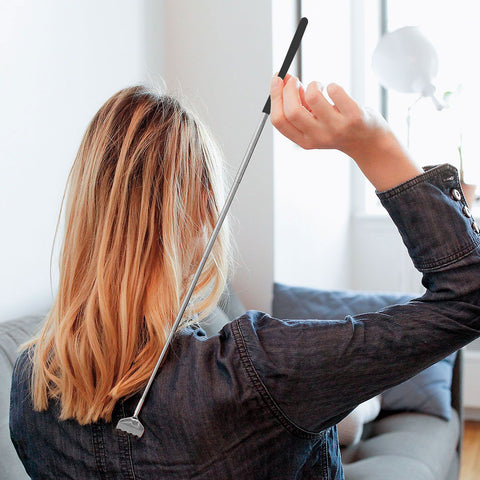 There are always certain items that one must have lying around. They don't seem vital at first, but when the need arrives, no substitute can fill in its place. 
One such accessory is an extendable back scratcher. Yes, our hands can indeed do the job quite well without spending money on it. But what to do when you cannot reach a tough spot? Will you battle yourself for hours, fatiguing every inch of your body? Or will you prefer to get the itch out of the way as soon as possible? 
Below we have gathered a list to help you find the perfect back scratcher amazon to get rid of itchy situations and be fatigue-free
#1 Snowyee Telescopic Back Scratcher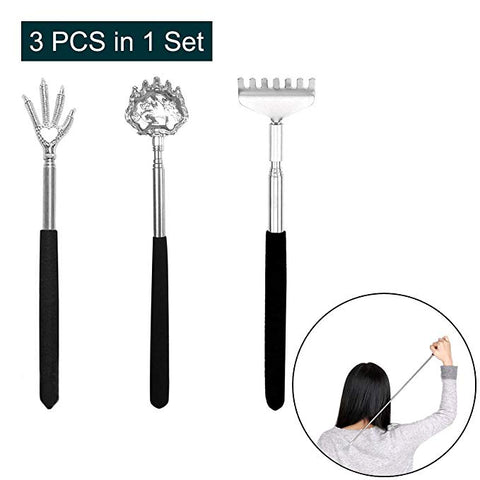 Out of all the scratching sticks we considered, the collapsible back scratcher by Snowyee stood out the most in design diversification, as well as quality.
It is a valuable 3 piece set of itch relieving sticks having the widest variety of claw designs amongst all others. Their claws designs include Hand Fingers, Bear Shape, and an Eagle claw design for different scratchy situations. All rashes need different approaches to be dealt with.
These sticks are crafted from stainless steel, which provides durability and firmness to the structure against the impacts while itching.  
These have an extendable design that can measure from 7.8" to 26.8". Its collapsibility proves to be travel friendly and makes it the best back scratcher Amazon has to offer.
Pros:
- Sturdy steel structure can withstand high forces.
- Claws don't lose their integrity with time.
- A variety of claws fits well for different situations.
- Extendable design enables it to cater to different lengths.
Cons:
- Stainless steel can feel sharp if used on bare skin.
It has the potential to leave scratch marks behind if used vigorously

#2 NEOPOO Metal Back Scratcher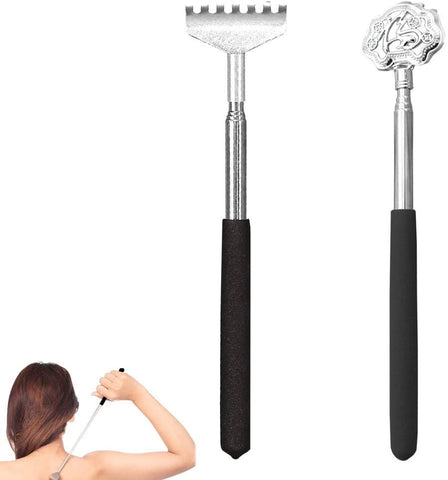 Second, we have a 2PC set by NEOPOO, which includes a classic rake claw and an added variety of bear claw as well. This scratcher set is made from high-quality stainless steel to withstand the impacts of forceful scratching.
This telescopic back scratcher has soft silicone handles added for a firm and non-slippery grip. Moreover, it can telescope from 7.8 inches to 26.8 inches. Making sure to fix itself in a wide range of lengths, NEOPOO provides its users with a unique set  
As for the claws, they stay sharp, rust, and swivel free for a long time to come.
Pros:
- The anti-rust design adds to its longevity.
- Collapsible design deems it travel friendly.
- Rigid and durable structure.
- Silicone handles add to its grip.
Cons:
- Sharp claws haves more chances of rendering injury if used vigorously.
The pole isn't sturdy enough when fully extended

#3 AZNRSZY Back scratcher 2 Pack Stainless Steel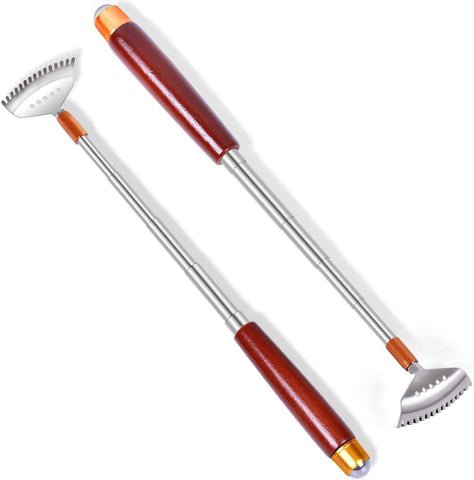 Next up, we have yet another back scratchers for elderly of 2 itch sticks that come with a surprise. It's the little massage ball at the end of their handle. This proves to be very handy, especially when you have tense muscles.
As for their grip, the sticks have a polished wooden handle that not only adds to aesthetics, but it also gives the itch-stick more balance and weight in its grip
The rest is pure stainless steel back scratcher with the claws having 7 well rounded yet sharp spikes to deal with all and any rashes. Its telescopic design can offer help itching at different lengths from 7 to 20 inches.
Pros:
- Wooden handle aids in balancing the extended stick.
- Stainless steel claws don't wear away with time.
- The structure is durable and sturdy inbuilt.
- Collapsible design makes it travel friendly.
Cons:
- No design variety in claws.
The weighted wooden handle

#4 RENOOK Back Scratcher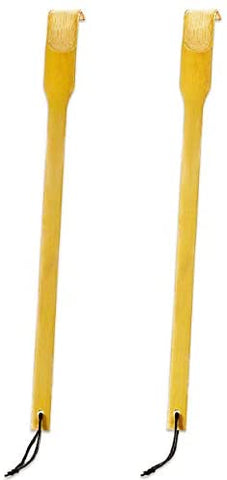 In case you want something Natural and not too sharp in the claw department, RENOOK is worth checking out.
The simple infrastructure is crafted from mature wooden back scratcher, which are easier to harvest. The wood itself is strong and is quite practical when dealing with an itch anywhere on your body.
The RENOOK stick is quite straightforward. Though it doesn't come with a telescopic design, it still is quite long, measuring around 16.5 inches in length.
On top, you get a 1" long and 0.59" wide claw, that has tiny knobs to mimic the natural scratching phenomenon.
Pros:
- It doesn't leave marks on your skin.
- You can use it on bare skin without injuring yourself.
- Bamboo is a flexible wood.
- Lightweight and easy to handle.
Cons:
- The wood will wear off with use over time.
Claw lacks in sharpness and width

#5 VASTOOLS Extendable Back Scratcher 3 Pack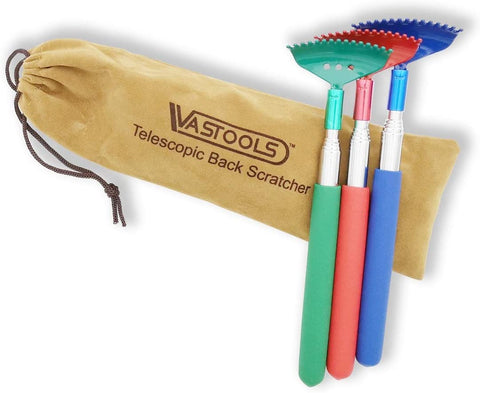 Amazon has yet another Telescopic Back Scratcher set with three vibrantly colored scratcher stick, perfect for the whole family.
 The telescopic structure can open from 7" to 24", enough to reach any tough spot. The curved claw is quite wide, being 2 inches in width and carries many teeth to support the rake shaped design.
Vastools make their scratching poles out of 304 Stainless steel that stays sharp and rust-free for longer times. Moreover, the frosted rubber handle is the perfect backup to hold the stick in place.
Adjust the stick to wherever you desire to scratch, as it won't collapse on pressure.
Pros:
- Curved claw sits well in body contours.
- The rubber handle adds to its grip.
- Variable adjustable lengths in its collapsible design.
- Wider claw covers more surface area.
Cons:
- Stainless steel tends to be sharp on bare skin.
All the claws in the set are the same.

#6 AKUNSZ Wooden Back Scratcher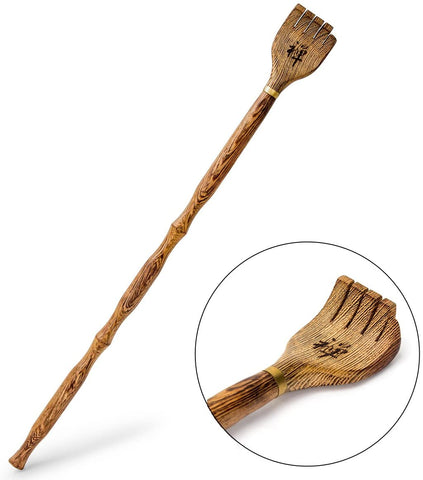 A fancy addition to our collection of itch relieving sticks is the oriental styled scratcher stick. Made from African Wenge wood, this scratching unit is one of a kind.
The wood itself is splinter-free and can withstand extreme forces. The unique and smooth texture backed by its contoured stick can also be utilized for massaging. Besides, these also make it easy to grip the stick.
It measures 16.9" in length, which is long enough to handle tough spots. Moreover, its claw, which measures 1.7" in width and 2.6" in length, is quite an eye-catcher. The Chinese Zen symbol embossed in the hand-shaped claw makes it the perfect gift.
Pros:
- Flexible and strong wood of body scratcher
- Gets full marks in aesthetics.
- A comfortable scratcher has a firm grip.
- A multi-tasker stick can be used for massaging too!
Cons:
- Wooden claw wears away with time and use.
- It isn't as sharp as steel.

#7 AZNRSZY Back Scratcher - 2 Pack Set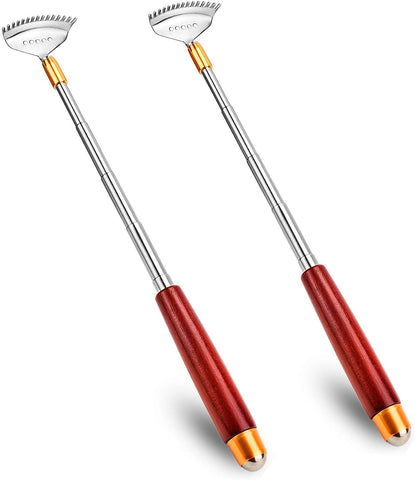 Another 2-piece scratcher set perfect as a gift to the family. This is yet another 304 Stainless Steel back scratcher that is extendable. the compact design makes it a great travel friend.
Its not only a scratcher stick, but the back of head massager steel ball at the handle-end makes it a great multi-tasker. The added features do wonders on tight spots.
AZNRSZY's telescopic back scratcher measures 7" to 20" in size and carries a wide 2.2-inch claw with 15 well-rounded yet sharp spikes. They can cover a far greater itch area as opposed to the narrower heads of many wooden sticks.
Furthermore, it also has an attractive weighted wooden handle that adds to its grip. Overall, it is one of the ideal back scratcher amazon has to offer.
Pros:
- The stainless steel structure is sturdy and durable.
- Can cater itches at different lengths.
- Wider claw covers more surface area.
- It is a multi-tasking stick.
Cons:
- No claw variety to choose from.
- A wooden handle adds in unnecessary weight to the stick.

#8 UNIS Stainless Steel Back Scratcher- Black 3 Pack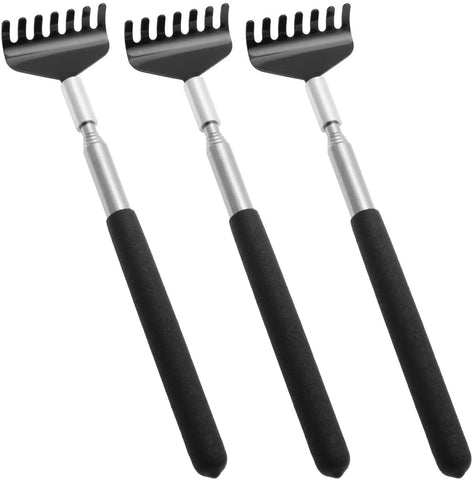 If you are someone who likes the classic rake style claws, then the following scratcher set may be of your liking.
Apart from being available in three exciting colors, the set has many other worthwhile features. It is an extendable back scratcher made from high-quality stainless steel. The durable anti-rust device is perfect for long term repeated portable back scratcher
As for collapsibility, the stick can extend from 7 inches to a full 26 ½ inches. That's not all! It can lock into different lengths too to get to different parts of your body.
Pros:
- Comfortable and firm rubber grip.
- Wide rake with equally spaced fingers for better surface area coverage.
- Well rounded fingers do not injure the skin.
- The collapsible structure makes it travel friendly.
Cons:
- It isn't as sharp as the other unique back scratchers units.
- Scratcher end tends to bend when met with vigorous use.

#9 ATB's Wide Telescoping Back Scratcher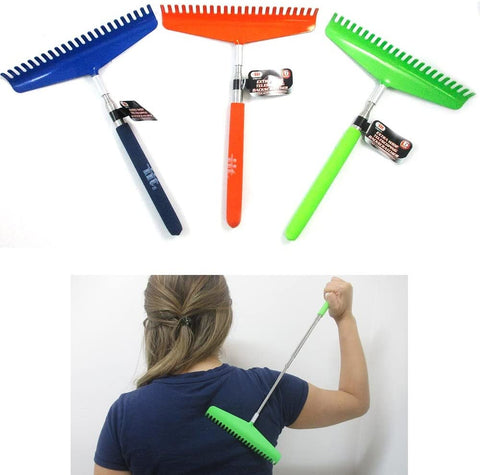 ATB really outdid themselves when they came with this scratching masterpiece. Not only will this itch stick relieve the rash, but it will also cover the whole area in one go.
What makes this stick special is its very wide rake sharp back scratcher. It measures a whopping 6 inches in width and is filled with numerous tiny fingers. 
The comfy rubber dipped handle aids the user to hold the stick in position when fully telescoped. The set comes in a range of assorted colors for the user to choose from.
Pros:
- It has the widest claw on the market.
- Claw has countless fingers, which work well to relieve the itch.
- It comes with a firm rubber grip.
- back scratcher that feels like fingernails stay sharp for a long time.
Cons:
- Its telescoping stick doesn't lock well at different lengths and tends to collapse.
- It tends to dismember easily with repeated usage.  

#10 4 Pieces Back Scratcher (Black)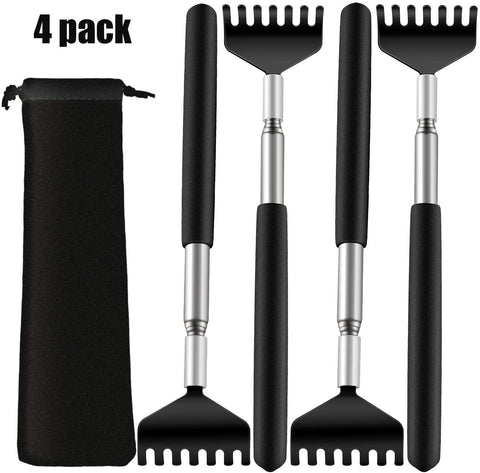 Last on the list, we have a 4 PCS fan back scratcher set by the Mudder Store. Enclosed in a flannelette carrying bag are 4 rake shaped scratching gadgets.
Doused in all black, these portable sticks are manufactured from trustworthy the best back scratcher that adds durability to its structure. This means they won't rust, bend or break easily.
As for its claws, the wide rake claws are supported by equally spaced rounded fingers to get maximum body coverage in order to provide relief to the user.
Measuring 7.87 to 26.7 inches, this stick can easily cater to scratching needs without the need for fatigue. To further support this, the stick comes with a PVC handle to contain the user's grip.
Pros:
- Wide claw covers more surface areas of the body.
- Well-rounded fingers go easy on the skin.
- The frosted handle adds to its grip.
- Collapsible design makes it travel friendly.
Cons:
- Rough use tends to pull the stick apart.
- No such claw variety is seen.

Buyers Guide
Here are some pointers to have in mind when purchasing a back scratcher to better explore your options.
1- When the need comes
You never know how much a mundane task such as itching can be the cause of your fatigue. These sticks are a breath of fresh air to pregnant women, people with joint or muscle problems leading them to have difficulty moving or performing day to day activities.
2- Structural Integrity.
Your itch stick has got to take the blow, whether you are a rough user or a gentle scraper, it doesn't matter.
Stainless steel does this best in an extendable back scratcher, although a flexible wood also suffices.
3- It's the claw that counts
Scratcher stick's claw takes center stage in their function. Claws should always avoid swiveling on the application of force. This is made sure by the steel structure layout.
They should also remain sharp and rust-free with use. Mainly, the wooden made scratcher sticks wear away with repeated usage, so watch out.  
4- Know your limits.
Not everyone can bear the sharpness offered by steel. Know your skin and scratching habits. If you prefer to scratch bare skin, I would suggest a milder wooden stick, a well-rounded finger claw of stainless steel, or just control the force you use to scratch.  
Conclusion
Overall, the best Back Scratcher Amazon has to offer has got to be the one by Snowyee. Its diverse claw range and impeccable durability in its structure are quite remarkable. It has the best performance in telescoping and withstanding rough use out of all.