Introduction
Our arms and legs are capable of countless things, from holding and grabbing, to walking or running. But they're limited in action when it comes to scratching those troublesome unreachable areas.
If you have fatigued every inch of your arms and back trying to scratch your back, it may be time to give this article a read first. Here we will provide you with 10 options of scratching devices that will help you get relief from irritations present anywhere on your body and help stay stress-free.
Reviewing the Most Heavy Duty Back Scratcher

1 Snowyee Back Scratcher – 3PCS (Black)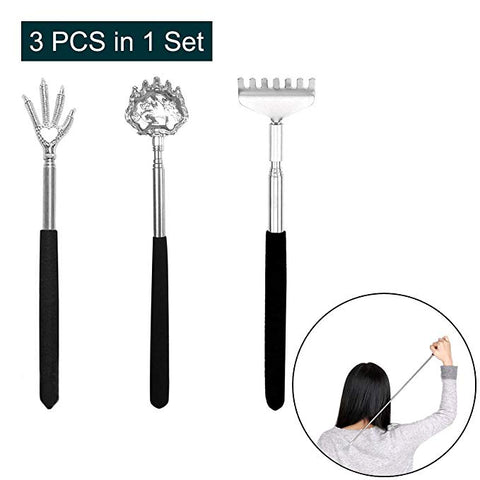 The best contraption on the list for scratching is the 3PC set by Snowyee. These are in the true sense, heavy duty back scratcher, as they don't collapse or swivel when high forces are exerted.
These portable back scratcher come in three different which have eagle claw back scratcher, plastic hand back scratcher, metal hand back scratcher, and bear claw back scratcher catered to different itchy situations
The extendable design makes them the best portable back scratcher, with its ability to fit a pocket when closed. Its extending length measures from 8.27" to 22.84". Moreover, the stainless-steel structure makes it sharp and sturdy when held.
Another attractive feature is that each claw covers a different surface area and has altered sharpness. So, you can mix and match to suit your need.
Pros:
- Has the most variety in claw shapes than any other collapsible back scratcher
- Stainless steel structure holds the unit intact and in place during heavy load.
- The item can be extended to the required length.
- The collapsible design carries great portability.
Cons:
- The contraption's stainless-steel claws may feel too sharp on bare skin to some people.
- Does not have a multi-tasking massager installed

2 NEOPOO Back Scratcher for Men and Women – 2PCS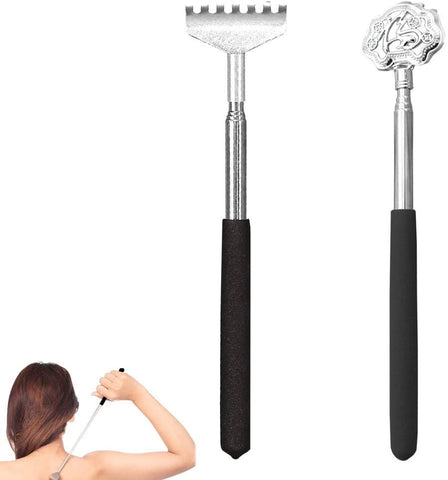 Another stainless steel back scratcher item worth considering Is the 2-piece set of bear and rake claws
This set of heavy duty back scratcher is supported by high-quality soft silicone handles to contain scratching pressures.
You will no longer be dependant on other people to scratch the uncatchable areas. Simply extend your heavy-duty NEOPOO back scratcher and find relief with exerting minimal fatigue.
This stick is a portable back scratcher that extends from 7.8" to 26.8. Different claw designs cater to different surface areas and contours of the body.
No swiveling, and no reeling in when tested with real scratching needs. This scratching idol is a great set to own.
Pros:
- Sturdy and impact-resistant structure.
- Varying telescoping lengths can cater to different parts of the body.
- Silicone grip allows heavy-duty use.
- Material isn't prone to corrode or rust.
Cons:
- Both varieties of claws are sharp.
Same built, but less variety as compared to the previous product

3 Aznrszy Multi-Functional Back Scratchers for Adults – 2Pack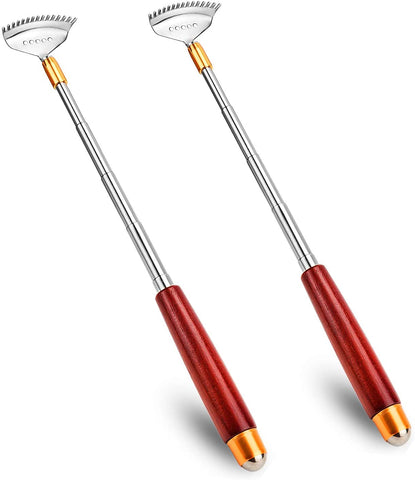 Another set of metal scratcher unit that extends on pulling is the 2-pack long back scratcher by Aznrszy.
The device's length can measure from 7" to 20", along with having the ability to stay put when adjusted in-between lengths. Not to forget, the solid wooden back scratcher amazon grip will not let the unit slip even from shaky hands.
The claw comprises of 7 sharp teeth, whose sharpness will stay put even after constant use. And when the time comes to de-stress some tightened muscles, the steel ball always comes to your rescue.
Pros:
- It is a back scratcher massager in one set.
- Collapses to pocket size can be stored or transported easily.
- Wider claw design and more teeth satisfy the greater itch area.
- Non-swivel structure handles high pressures with ease.
Cons:
- No claw variety is seen in the set.
Telescopes, but lacks in length as compared to the two above

4 RENOOK Backscratcher, 2 Piece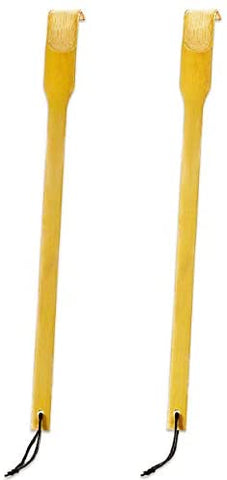 The scratcher stick by RENOOK is a perfect tool for people with sensitive but irritated skin. It is crafted from pure natural bamboo. It has undergone a critical baking process and polishing technology to give you a fine scratching experience.
Measuring up to 16.5 inches, this stick reaches anywhere on your body without having negative after-effects. The claw is bent with 4 indentations as teeth. These go gentle on your skin and match the natural scratching experience.
This tool can be used as a massager too, by utilizing the bend in its claw.
Pros:
- Wooden texture isn't too harsh on the skin.
- The curved claw can be utilized as a massager too!
- Does not break easily.
- Claw is bent, mimicking the shape of your hand, aids in scratching.
Cons:
- Takes up more space, as opposed to a collapsible back scratcher
- Stick's claw tends to round off due to wear from extended use

5 VASTOOLS Large Telescopic Back Scratcher – 3 Pack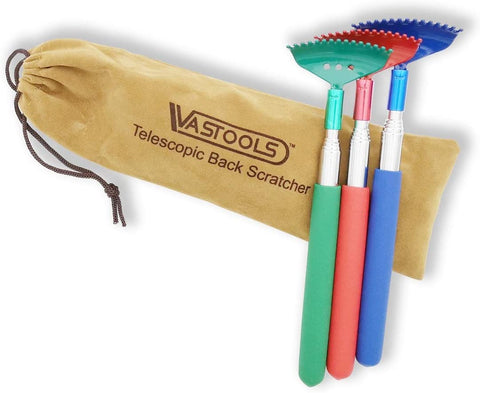 A 3-piece set of strong heavy duty back scratcher, ready to mitigate all scratching needs. This colorful telescoping scratcher set comes in a storage-friendly carrier.
The VASTOOLS body scratcher gadgets range in length from 7" to 24". Manufactured from sturdy stainless steel back scratcher and supported by a base of frosted silicone handle, ready to ease an itchy situation.
As for the claw, its width is about 43 mm, with numerous teeth to cover the maximum itch area. It is contoured to sit into the depressions of one's body while scratching.
Pros:
- Storage bag allows makes it storage-friendly.
- Its curved claw adapts to your body's curves.
- Many teeth cover more surface area.
- Telescopic nature makes it take less space.
Cons:
- Metal seems to be stamped, resulting in sharper than usual edges.
- No variety seen in claw shapes throughout the set

6 AKUNSZ Back Scratcher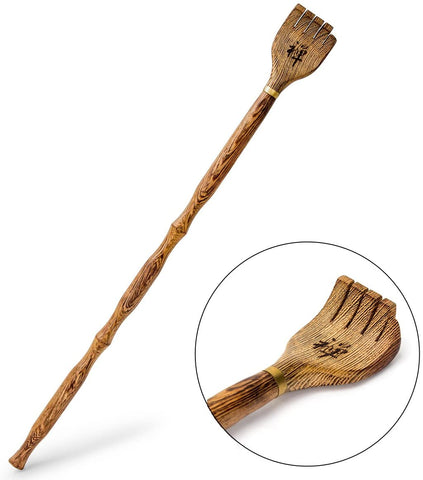 Another wooden back scratcher amazon, ready to battle any scratching issues that you may have. This is no ordinary scratching unit, as it excels in aesthetics as well as function.
As for the claw, the five hand-like finger indentations display a natural feel to the scratching effect. It measures 1.7" in width and 2.6" in height. The stick is made from 16.9" African Wenge wood, having numerous curvature point throughout its length.
There's more!
The stick has a shiny finish and a classic Chinese zen logo in the middle of its claw. Overall, it's a very good-looking scratching unit.
Pros:
- Curved claw mimics gentle scratching of hand.
- Wooden built goes easy on the skin.
- Contours throughout the stick's body act as a massager.
- Altered levels of teeth sit into body contours.
Cons:
- Takes more room, cannot be collapsed to pocket size.
- Rigid structure makes it prone to breakage

7 AZNRSZY Back Scratchers for Adults – 2 Pack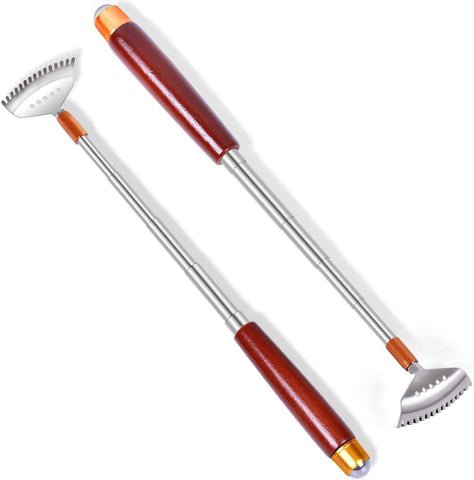 Another heavy duty back scratcher up for display is the 2-piece set by AZNRSZY. The telescopic nature of this stick enables it to fit anywhere for urgent itchy situations.
Many features are backing this phenomenon. Firstly, the length can extend from 6.9" to 20," making it super easy for you to get tough spots. Secondly, the rake shaped exhibits many teeth and a curved layout measuring up to 2 inches.
Its polished personal back scratcher handle adds class and weight to the overall gadget, allowing you to enhance grip around the stick and balance it while you scratch.
That's not all!
The steel ball at the end is perfect to de-stress tense muscles.
Pros:
- Can scratch and massage, all in one.
- Wooden handle adds balance and enhances grip.
- The telescoping structure caters to many lengths.
- Portable friendly due to its compact design.
Cons:
- The set lacks claw variety.
Wooden handle adds heaviness to the stick

8 UNIS 3X High-Quality Telescopic Stainless Steel and Comfort Grip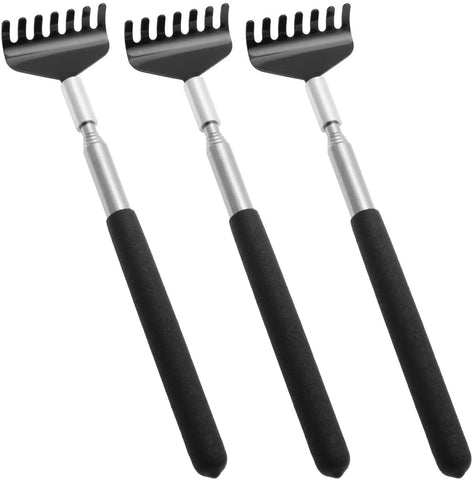 Another set of stainless steel back scratcher wonders. These 3 scratcher units will keep your family itch-free for a long time. There are three color choices you pick from too!
As for what it features, the UNIS scratching set deals with telescopic sticks manufactured from stainless steel and backed by a sturdy silicone frosted handle.
Its length varies from 7.5 to 26.5 inches, allowing it to be the perfect portable itch negator. The variation enables you to select from a range of different lengths, making it easy to spot any itch in time. It also stays rust-free, so cleanliness after every use is possible!
Pros:
- 3 units, enough for the whole family.
- Broad scratching claw covers more skin surface area.
- Extending lengths covers various tough spots.
- Frosted handle adds to grip.
Cons:
- A set of three with no claw variety.
Heavy-duty repeated use tends to bend the claw

9 Wide Telescoping Back Scratcher 25" Extendable – By ATB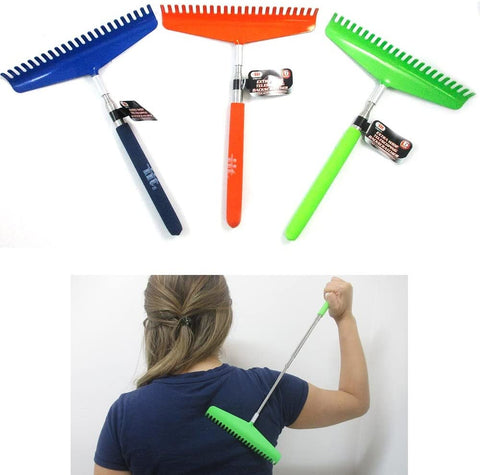 If you are constantly unsure of where the itch exactly is. Then this metal telescoping back scratcher may be of help. Available in three attractive colors, this scratcher stick is the widest it can get.
It also has a telescoping structure ranging to 25 inches, so the length isn't an issue anymore. Whatever area you think irks, scratch away with ATB's stick. We have already mentioned the huge head of 6 inches the stick carries.
The stainless steel structure gives this stick a sturdy built and allows the user to locate their irritations with the least fatigue possible, that too independently.
Pros:
- Wide scratching claw comes sin handy in locating itch.
- Durable and sturdy structure.
- Scratcher's head does not swivel on the application of force.
- Teeth of steel maintain their sharpness.
Cons:
- Reels back too the original position when high forces are applied.
Rough use ends up breaking the structure

10 Mudder's 4 PC Set of Back Scratchers - Black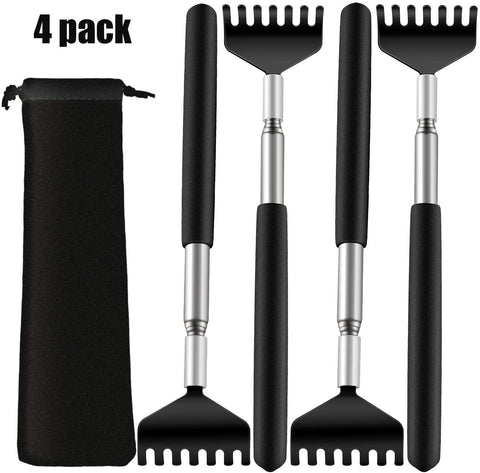 Last, in our self back scratcher list, is the 4 PC set from Mudder and a carry bag.  
It is yet another extending metal telescoping back scratcher unit, that is worth mentioning. The collection exhibits 4 identical sets of rake shaped claw sticks.
The claws all have rounded edges for teeth and are wide enough to cover a substantial surface area. As for the extendibility, length can be switched from 7 to 26 full inches, enough to reach any spot on your body, with minimal effort.
Pros:
- The telescoping structure allows various length adjustments.
- Handy lightweight PVC structure.
- The carry-on bag makes storage easy.
- Enough scratcher sticks for the use of the whole family.
Cons:
- Rough use causes the device to pull apart.
4 PC set with no claw variety

Buyer's Guide to Freedom from Scratches 
Who Is the Target Audience for heavy duty back scratcher
The heavy duty back scratcher are mainly focused on people with movement disabilities. These can be pregnant women, handicapped individuals or anyone who suffers from joint or bone problems, or even regular folk who are unable to bend their arms at awkward positions to reach their itchy-bitchy back.
It is better to have a portable back scratcher than to be in an awkward situation and ask for a scratch on the back.  
Structural Details One Must Look For
- Extendable or not?
collapsible back scratcher are perfect for adjusting to your desired length—their ability to lock at a range of distances aid in minimalizing fatigue.
- Does it Swivel?
A swiveling scratching claw defeats all purpose of a back scratcher. That is to reach the point of itch and provide relief. You would just be going back and forth without being able to apply the scratch itself.
What Are They Made Of?
The stick can either be stainless steel or wood. It largely depends on an individual's preference.
But do know, a wooden stick doesn't sit well for heavy-duty use. It will wear off after a certain amount of time and will not be of much use.
On the other hand, not only is a stainless-steel stick durable and more in line with heavy-duty use. It also can collapse or extend. Hence, making reaching tough spots or storing it way easier.
Conclusion
So far, our knowledge certifies the Snowyee 3 PC set to be the perfect heavy-duty back scratcher. They can take rough usage head-on and manage to tackle different itch scenarios with the help of their claw variety